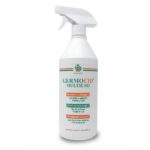 Germocid Multiuso
Germocid Multiuso is registered by the Italian Ministry of Health.
GERMOCID MULTIUSO is a ready to use disinfectant detergent, specially designed for cleaning delicate surfaces. It can be used in the bathroom and kitchen, on tils and on all washable surfaces. It is active against bacteria and fungi. It degreases, deodorizes and cleanses ensuring a complete disinfection of objects and environments. It dries quickly and leaves no streaks.
It does not foam and does not stain.
COMPOSITION
INSTRUCTIONS FOR USE
PACKAGING
Product ID
HOW TO STORAGE AND VALIDITY
Technical DataSheet
100,00 g of product contain:
Benzalkonium Chloride 0,50 g; O-phenilphenol 0,02 g; coformulants; depurated water q.s. to 100,00 g.
For daily cleaning spray the product directly on the surface to be treated. For disinfection leave for 15 minutes to
eliminate bacteria and fungi.
750 ml bottle with trigger – Box containing 12 bottles
5 years.
The indicated period of validity refers to the product properly stored in its container and correctly used. Store in a cool, dry place, away from heat sources.