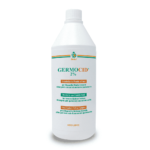 Germocid 2%
Disinfectant for medical devices and invasive surgical instruments.
Germocid 2% is a Medical Device CE 0546 class IIb in compliance with Directive 93/42/ECC.
GERMOCID 2% is a ready to use solution, without a mechanical action, with a detergent and disinfectant action for invasive medical devices and surgical instruments also in presence of organic material (blood, saliva, organic exudates).
It is active against Gram-positive and Gram-negative bacteria, fungi, mycobacteria and viruses (HIV-HBV-HCV etc.).
COMPOSITION
INSTRUCTIONS FOR USE
PACKAGING
Product ID
HOW TO STORAGE AND VALIDITY
Technical DataSheet
100,0 g of product contain:
Benzalkonium chloride 2,0 g; O-phenylphenol 0,2 g; coformulants; depurated water q.s. to 100,0 g
Soak the instruments to treat in the solution according to the table. Rinse thoroughly with water before use. It can also be used in ultrasound equipment.
CONTACT TIMES:
Bacteria 15 minutes
Fungi 15 minutes
Mycobacteria 60 minutes
Viruses (Adenovirus, HIV-HCV-HBV) 60 minutes
Carefully read the instructions and directions for use on the label.
1000 ml Bottle – Box containing 12 Bottles
3 years.
The indicated period of validity refers to the product properly stored in its container and correctly used. Store in a cool, dry place, away from heat sources.