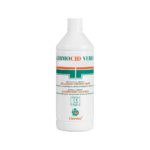 Germocid Verde
Alcohol-based disinfectant for the preservation of sterilized surgical instruments.
Germocid Verde is a Medical Device CE 0546 class IIb in compliance with Directive 93/42/ECC.
GERMOCID VERDE is a fast and practical disinfectant because is a ready to use product.
The product has a high alcohol content and it is perfect for disinfecting and aseptic conservation of invasive medical devices for all surgical instruments because it preserves their sharpness.
The synergistic combination of its active ingredients guarantees maximum protection against fungi, viruses and Gram positive and/or Gram negative bacteria acting also in presence of organic material.
Its formula has a high cleaning power and evaporates quickly, leaving however a pleasant fragrance.
COMPOSITION
INSTRUCTIONS FOR USE
PACKAGING
Product ID
HOW TO STORAGE AND VALIDITY
Technical DataSheet
100,0 g of product contain:
Chlorexidine Digluconate 0,1 g; Benzalkonium Chloride 0,1 g; Ethilic alcohol 45,0 g; Iso propylic alcohol 15,0 g; coformulants, depurated water q.s. to 100,0 g.
For disinfection and aseptic conservation of invasive medical devices, immerse them directly in a container containing the ready to use solution of GERMOCID VERDE.
Leave for 60 minutes for a bactericidal, fungicidal and virucidal activity, keep immersed for aseptic conservation. Proceed with a thorough rinsing before use, the last of which with sterile water.
Carefully read the instructions and directions for use on the label.
1000 ml Bottle – Box containing 12 Bottles
3 years.
The indicated period of validity refers to the product properly stored in its container and correctly used.
Store in a cool, dry place, away from heat sources.