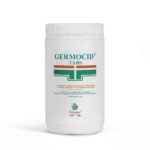 Germocid Tabs
Cleaner, deodorant, whitener in tablets with Chlorine.
GERMOCID TABS, thanks to the innovative chlorine-based tablets format, convenient ed economical, are the practical and modern alternative to the classic sodium hypochlorite.
The product is suitable for cleansing, sanitizing, deodorizing, perfuming and whitening objects and environments such as kitchen and bathroom. They are also used effectively in glasswashers or dishwashers to whiten and deodorize dishes, glasses and cups.
The format in 3,35 g tablets makes the product more stable than chlorine in liquid form and helps to reduce the use of plastic compared to traditional bottled products.
COMPOSITION
INSTRUCTIONS FOR USE
PACKAGING
Product ID
HOW TO STORAGE AND VALIDITY
Technical DataSheet
Sodium Dichloroisocyanurate. Reg.648/2004/EC: >30% chlorine-based bleaching agents.
1) For hygiene of rubber, plastic and glass objects: Dissolve 1 tablet in 7-8 liters of water and then rinse.
2) Industrial Dishwashers: use 1 tablet in the water of the washing tank every 12/15 baskets.
3) Household dishwashers: use 1 tablet in the water of the washing tank.
4) For hygiene and deep cleaning of the rooms: dissolve 2-3 tablets every 20 liters of water.
5) For hygiene and cleaning maintenance of the rooms: dissolve 1 tablet every 15-20 lt of water.
6) For hygiene and cleaning of toilets: use 1 tablet directly in the WC.
Carefully read the instructions and directions for use on the label.
1 kg Jar – Box containing 6 Jars
Use within 36 months from the production date.
Store in a cool, dry place, away from heat sources.