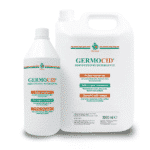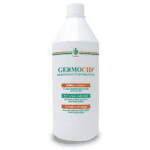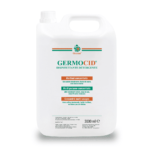 Germocid Disinfettante Detergente
Disinfectant and detergent for environments with high infective risk.
Germocid Disinfettante Detergente is registered by the Italian Ministry of Health.
GERMOCID DISINFETTANTE DETERGENTE disinfects, cleans and deodorizes floors, surfaces and objects in environments with a higher infectious risk such as: hospitals, clinics and waiting rooms.
It reduces the environmental microbial charge preventing the risk of infectious diseases.
It is colorless and pleasantly scented.
COMPOSITION
INSTRUCTIONS FOR USE
PACKAGING
Product ID
HOW TO STORAGE AND VALIDITY
Technical DataSheet
100,0 g of product contain: Didecyldimethylammonium Chloride 10,0 g, Isothiazolinone Mg Chloride 0,2 g, Coformulants, depurated water q.s. to 100,0 g
It is used diluted to 2% (20 ml of product in one liter of water) for the disinfection of industrial equipment, surfaces of pharmaceutical and cosmetic industry and community environments in general (classrooms, canteens, etc.).
It is used diluted to 1% (10 ml of product in one liter of water) to disinfect any tiled surfaces.
Carefully read the instructions and directions for use on the label.
1000 ml Bottle – Box containing 12 Bottles
3000 ml Canister – Box containing 6 Canisters
B061 (1000 ml)
B063 (3000 ml)
5 years.
The indicated period of validity refers to the product properly stored in its container and correctly used.
Store in a cool, dry place, away from heat sources.