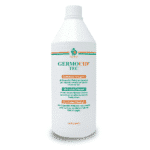 Germocid Tec
Disinfectant cleaner for non-invasive medical devices.
Germocid Tec is a Medical Device CE 0546 class IIa in compliance with Directive 93/42/ECC.
GERMOCID TEC is a water based solution active against Gram positive and Gram negative bacteria, fungi, mycobacteria and viruses. It decontaminates, disinfects, degreases and cleanses.
Thanks to the dual function dispenser it is usable with spray dispensing or with the foamer version.
The foam adheres to all surfaces avoiding excessive use of the product and allows to limit the volatility of the components.
Its formula is compatible with all the equipment and with all the materials used in nursing homes, dental clinics, medical surgeries, hospitals, beauty centers, etc. It is ideal for all alcohol sensitive materials such as: face masks, various plexiglass objects and equipment, etc.
COMPOSITION
INSTRUCTIONS FOR USE
PACKAGING
Product ID
HOW TO STORAGE AND VALIDITY
Technical DataSheet
100,0 g of product contain: Benzalkonium chloride 2,0 g; O-phenylphenol 0,2 g; coformulants; depurated water q.s. to 100,0 g.
Spray the product directly on surfaces.
Spread the product on the area of interest and leave it to act for 15 minutes against bacteria and fungi; for 60 minutes against mycobacteria and viruses. Then wipe with a tissue.
No need to rinse except on plexiglass surfaces.
Carefully read the instructions and directions for use on the label.
750 ml Trigger – Box containing 12 Pieces
3 years.
The indicated period of validity refers to the product properly stored in its container and correctly used.
Store in a cool, dry place, away from heat sources.