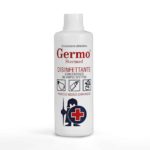 Stermed
Disinfectant for fruits, vegetables, bottles and teats.
Stermed is a product registered by the Italian Health Ministry.
STERMED is a broad-spectrum disinfectant for outdoor use, ideal for disinfecting children's objects, bottles, pacifiers, toys, saucers and contact surfaces in addition to the microbial decontamination of fruit and vegetables.
COMPOSITION
INSTRUCTIONS FOR USE
PACKAGING
Product ID
HOW TO STORAGE AND VALIDITY
Technical DataSheet
100,0 g of product contain:
Sodium Hypochlorite 1,15 g (equivalent to active Chlorine 1,10 g); coformulants, depurated water q.s. to 100,0 g.
Disinfection of hard surfaces: dilute to 5%. Contact time 5 minutes.
Decontamination of fruit and vegetables: dilute to 2%. Leave it on for 15 minutes, then rinse with potable water.
Cleaning and preservation of feeding bottles, newborn objects, dishes used in neonatal age: dilute to 2%. Keep in touch for 30 minutes, allow to soak until use, rinse with plenty of potable water.
Carefully read the instructions and directions for use on the label.
1000 ml Bottle – Box containing 12 Bottles
30 months.
The indicated period of validity refers to the product properly stored in its container and correctly used. Store in a cool, dry place, away from heat sources.