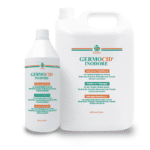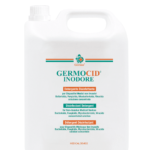 Germocid Inodore
Detergent disinfectant for non-invasive medical devices.
Germocid Inodore is a Medical Device CE 0546 class IIa in compliance with Directive 93/42/ECC.
GERMOCID INODORE is a concentrated disinfectant solution active against Gram positive and Gram negative bacteria, fungi, mycobacteria and viruses (Adenovirus, HIV, HBV, HCV); also degreases and cleans, does not stain and does not leave streaks, perfect for alcohol sensitive materials. Indicated for cleaning and rapid disinfection of all surfaces of non invasive medical devices such as beds, litters, masks and various equipment (desks, armrests, handles, etc.) usually in use at medical or dental surgeries, hospitals, beauty centers, tattoo shops. It is indicated also for dental unit disinfection.
COMPOSITION
INSTRUCTIONS FOR USE
PACKAGING
Product ID
HOW TO STORAGE AND VALIDITY
Technical DataSheet
100,0 g of product contain:
Benzalkonium Chloride 10,0 g; Orthophenylphenol 1,0 g; cofomulants, depurated water q.s. to 100,0 g.
GERMOCID INODORE is used diluted in water in different concentrations depending on the disinfection you want to obtain. The diluted solution is stable for a week if it is used correctly, without contamination by substances and/or external agents.
Pour the required amount of product into a liter of water, apply with sponges, cloths, sprinklers, manual or mechanical pumps or any other means on washable walls and surfaces. Leave to act as indicated in the table and rinse.
Activity

Active concentration

Contact Time

Bactericidal

10%

5%

15 minutes

15 minutes

Fungicidal

10%

15 minutes

Mycobactericidal

10%

60 minutes

Virucidal

Adenovirus

HIV, HCV, HBV

1%

15%

60 minutes

60 minutes

Carefully read the instructions and directions for use on the label.
1000 ml Bottle – Box containing 12 Bottles
5000 ml Canister – Box containing 4 Canisters
Q301 (1000 ml)
Q305 (5000 ml)
5 years.
The indicated period of validity refers to the product properly stored in its container and correctly used.
Store in a cool, dry place, away from heat sources.