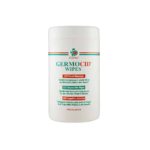 Germocid Wipes 220
Disinfectant cleansing tissues for non-invasive medical devices.
Germocid Wipes is a Medical Device CE 0546 class IIa in compliance with Directive 93/42/EEC.
GERMOCID WIPES is a specific product for a deeply cleansing and disinfection of non invasive medical devices (desks, dental units, armrests, handles, turbines, faces masks, headrests. etc.) used in medical/dental surgeries.
Compared to traditional products, the practical packaging makes faster the surface cleaning and disinfection procedures by eliminating bacteria (including TBC), yeasts and viruses (including HIV, HBV and HCV).
Its low content of alcohol facilitates evaporation and does not damage the materials.
COMPOSITION
INSTRUCTIONS FOR USE
PACKAGING
Product ID
HOW TO STORAGE AND VALIDITY
Technical DataSheet
100,0 g of solution contain:
Benzalkonium Chloride 0,50 g; O-phenylphenol 0,02 g; Isopropyl Alcohol, Ethanol, coformulants, depurated water q.s. to 100,0 g.
Pull out a wipe from the canister and rub the surfaces of the medical devices to be cleansed and decontaminated. Be sure they are fully wet.
Leave on for the times indicated. Do not rinse.
Contact times:
Viruses (Adenovirus, HIV HBV HCV) 5 minutes
Bacteria and yeasts 5 minutes
Mycobacterium tuberculosis (TBC) 60 minutes
Carefully read the instructions and directions for use on the label.
Jar with 220 wipes – Box containing 6 Jars
3 years.
The indicated period of validity refers to the product properly stored in its container and correctly used.
Store in a cool, dry place, away from heat sources.