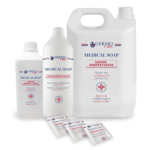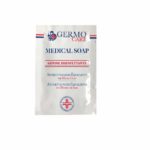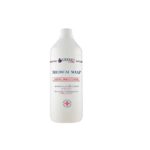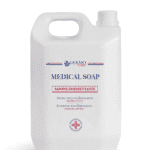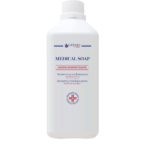 Medical Soap
Liquid antiseptic soap for the disinfection of hands and skin.
Medical Soap is registered by the Italian Ministry of Health.
MEDICAL SOAP SAPONE DISINFETTANTE thanks to the emollient substances contained, it makes the skin soft, respects the hydrolipidic layer and does not alter the physiological balance of the skin, allowing frequent washing.
It is indicated for the disinfection of the surgeon's hands before surgery, for the disinfection and cleaning of the hands of medical personnel in order to avoid cross-infections, for washing the patient and in any context where a high level of hygiene is required (food companies, elderly centers, medical offices, laboratories, etc.).
Clear liquid with characteristic perfume.
Dermatologically tested.
Composition
INSTRUCTIONS FOR USE
PACKAGING
Product ID
How to storage and validity
Technical DataSheet
100,0 g contain: Alkyl benzyl dimethyl ammonium chloride 0,50 g; O-phenylphenol 0,50 g; perfume; coformulants, depurated water q.s. to 100,0 g.
It is used as it is.
Apply about 5 ml of product on wet hands for at least 5 minutes and after thorough washing (using the toothbrush to thoroughly clean the nails) rinse thoroughly.
Carefully read the instructions and directions for use on the label.
5 ml Sachet – Box containing 500 Sachets
500 ml Bottle – Box containing 12 Bottles
1000 ml Bottle – Box containing 12 Bottles
3000 ml Canister – Box containing 6 Canisters
S627 (5 ml)
S624 (500 ml)
S621 (1000 ml)
S623 (3000 ml)
5 years.
The indicated period of validity refers to the product properly stored in its container and correctly used. Store in a cool, dry place, away from heat sources.