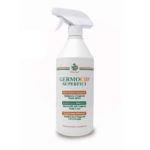 Germocid Superfici
Antibacterial disinfectant cleaner.
Germocid Superfici is registered by the Italian Ministry of Health.
Germocid Superfici complies with HACCP regulations.
GERMOCID SUPERFICI thanks to its agents disinfects and cleans all surfaces quickly: floors, tiles, ceramics, bathroom, stoves and even objects.
It has a broad range of action and helps to eliminate allergens.
COMPOSITION
INSTRUCTIONS FOR USE
PACKAGING
Product ID
HOW TO STORAGE AND VALIDITY
Technical DataSheet
100,0 g of product contain:
Benzalkonium chloride 2,0 g; Ortophenilphenol 0,1 g; Coformulants, depurated water q.s. in 100,0 g
For the disinfection of tiles, objects, surfaces and toilets, spray an appropriate quantity of product and let it act for 10 minutes. Rinse.
For everyday cleaning: spray an appropriate quantity of product on the surfaces to be cleaned; use a sponge and rinse.
Carefully read the instructions and directions for use on the label.
750 ml Bottle – Box containing 12 Bottles
3 years.
The indicated period of validity refers to the product properly stored in its container and correctly used. Store in a cool, dry place, away from heat sources.