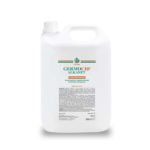 Germocid Alkanet
Alkaline detergent for the washing of medical devices and all medical instruments.
Germocid Alkanet is a Medical Device CE class I in compliance with Regulation (UE) 745/2017.
GERMOCID ALKANET is suitable to remove blood, protein, culture media, food residuals and stubborn dirt without altering the materials.
The product is effective for the treatment of instruments in steel and stainless steel, optical equipment, conventional plastics and anesthesia instruments.
For other types of materials (for example aluminum or light alloys) it is recommended to check the compatibility with the detergent. Use demineralized water for washing and rinsing.
It is suitable for use in automatic washing equipment and for treatments in immersion or with ultrasound equipment.
It contains ecofriendly ingredients that prevent the sedimentation of organic residuals reducing the surface tension of the used solutions.
COMPOSITION
INSTRUCTIONS FOR USE
PACKAGING
Product ID
HOW TO STORAGE AND VALIDITY
Technical DataSheet
100 g of product contain:
< 5 % amphoteric surfactants; phosphonates; enzymes; benzisothiazolinone.
The neutralization phase, required with the classic alkaline detergents, is not necessary using GERMOCID ALKANET. In the treatment of ophthalmic instruments, an additional intermediate rinse is recommended before final rinsing. Renew the immersion solution once a day.
| | |
| --- | --- |
| For the automated preparation of thermostable and thermolabile instruments. | 0,2-1% (2–10 ml/l) for example 50-60°C, 10 minutes |
| For mechanized washing of flexible endoscopes and related accessories. | 0,5% (5 ml/l) for example 35-55°C, 5 minutes |
| For manual preparation of instruments in  the immersion and ultrasonic baths. | 0,5–2% (5–20 ml/l), 10-30 minutes preferably at a temperature of 40°C max. |
| For manual preparation of endoscopes and related accessories in the immersion and ultrasonic baths. | 0,5–3% (5–30 ml/l), 10-30 minutes preferably at a temperature of 40°C max. |
After the treatment, rinse the pipes with plenty of water. Do not mix with other products. Respect the instructions of the manufacturer of instruments according to the provisions of the standard and the indications of the manufacturer of the washing equipment.
Carefully read the instructions and directions for use on the label.
3000 ml Canister – Box containing 6 Canisters
5000ml Canister-Box containing 4 Canisters
A260 (3000 ml)
A261 (5000 ml)
2 years.
The indicated period of validity refers to the product properly stored in its container and correctly used. Store in a cool, dry place, away from heat sources.