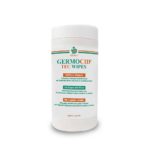 Germocid Tec Wipes
Disinfectant cleansing tissues for non-invasive medical devices.
Medical Device CE 0546 class IIa in compliance with Directive 93/42/EEC.
GERMOCID TEC WIPES are made of a kind of multifunctional TNT soaked with a SAQ-based aqueous solution for the practical and fast cleansing and disinfection of non-invasive medical devices. Their formula is compatible with all equipment and materials in use at hospitals, dental surgeries, medical clinics, etc.
GERMOCID TEC WIPES is ideal for all alcohol-sensitive surfaces and materials such as: beds, stretchers, face masks, various objects and equipment also in plexiglass.
The wipes are pleasantly scented, they decontaminate, disinfect, degrease and cleanse, do not stain and leave no halos.
COMPOSITION
INSTRUCTIONS FOR USE
PACKAGING
Product ID
HOW TO STORAGE AND VALIDITY
Technical DataSheet
100,0 g of the soaking solution contain:
Benzalkonium chloride 2,0 g; O-Phenylphenol 0,2 g; Coformulants, depurated water q.s. to 100,0 g.
Remove a wipe from the packaging and rub on surfaces, objects and instruments to be cleaned and decontaminated ensuring that they are fully moistened. Leave it act for 15′ against bacteria and fungi, for 60′ against mycobacteria and viruses. It does not require rinsing.
Jar containing 100 wipes – Box containing 6 jars
3 years.
The indicated period of validity refers to the product stored in its container and properly used and stored.
Store in a cool, dry place, away from heat sources.