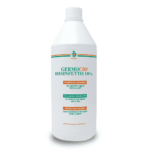 Disinfetto 10
Disinfectant detergent with 10% Quaternary Ammonium Salts.
DISINFETTO 10 is registered by the Italian Health Ministry.
DISINFETTO 10 is a liquid disinfectant based on Benzalkonium Chloride. It has a detergent and disinfectant action.
It ensures maximum hygiene and disinfection of environments, objects and surfaces in medical areas.
Being a highly concentrated product, it helps to reduce waste and consumption.
The packaging is completely recyclable.
COMPOSITION
INSTRUCTIONS FOR USE
PACKAGING
Product ID
HOW TO STORAGE AND VALIDITY
Technical DataSheet
100,0 g of product contains: Benzalkonium Chloride 10,0 g; depurated water q.s. to 100,0 g.
For disinfection of environments and surfaces DISINFETTO 10 is used at 2% (20 g of product in 1 litre of water). Pass a cloth previously moistened by the product on the entire surface to be treated and leave it to act. It is recommended to use the product first as a detergent and then for disinfection. The solution diluted to 2% can also be used for disinfection in immersion of sanitary equipment. Leave for 15/20 minutes and rinse with plenty of water before use.
Carefully read the instructions and directions for use on the label.
1000 ml Bottle – Box containing 6 Bottles
Validity 5 years.
Store in a cool, dry place, away from heat sources. The indicated period of validity refers to the product in its container and properly used and stored.