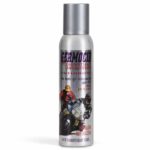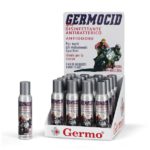 Germocid Spray Disinfettante Sport
Ready to use disinfectant for the disinfection of sport clothing.
Germocid spray disinfettante Sport is registered by the Italian Ministry of Health.
GERMOCID SPRAY DISINFETTANTE SPORT is a ready-to-use disinfectant for the cleaning and disinfection of sports clothing such as shoes, jackets, helmets and various accessories. Formulated to be delicate, it does not leave halos and does not damage the most sensitive parts such as the visors of the helmets and their internal padding. It is suitable for those who want to keep the sports clothing and accessories that are frequently used disinfected because it neutralizes bad smells by releasing a pleasant and delicate clean scent.
Active on the Coronavirus family. Tested by an accredited EU laboratory.