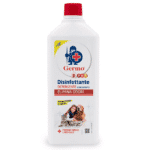 Disinfettante Detergente Concentrato
Super concentrated disinfectant for the disinfection of objects and home surfaces.
Disinfettante Detergente Concentrato is registered by the Italian Ministry of Health.
DISINFETTANTE DETERGENTE CONCENTRATO is a disinfectant with an exclusive Allergen Free scent also appreciated by our animals.
It is a concentrated disinfectant suitable for all home environments that guarantees a complete disinfection of the rooms combined with an effective cleansing action.
The particularly concentrated formulation allows the use of a minimum dose of product that acts directly on the microorganisms responsible for the formation of bad smells, inhibiting their onset.
It leaves a pleasant scent in all environments.
Its formulation is balanced to make surfaces cleaned, without halos and without the need to rinse.
Composition
Instructions for use
Packaging
Product ID
How to storage and validity
Technical DataSheet
100,0 g contain:
Benzalkonium chloride 2.00 g; Orthophenylphenol 0,10 g; coformulants; depurated water q. s. to 100.0 g
Easy and comfortable to use, it is diluted in the water.
To cleanse: dilute to 2% (20 ml of product in one liter). Do not rinse.
To disinfect: dilute to 5% (50 ml of product in one liter). Leave to act for 5 minutes.
In the case of surfaces and objects that come into direct contact with food: rinse with plenty of drinking water.
Do no use on the skin.
Carefully read the instructions and directions for use on the label.
1000 ml Bottle – Box containing 6 Bottles
3 years.
The indicated period of validity refers to the product properly stored in its container and correctly used.
Store in a cool, dry place, away from heat sources.