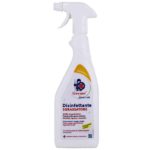 Disinfettante Sgrassatore
Degreaser, detergent, bactericidal, fungicidal for home use.
Disinfettante Sgrassatore is registered by the Italian Ministry of Health.
DISINFETTANTE SGRASSATORE is a powerful detergent, bactericidal and fungicidal degreaser indicated to disinfect and cleans all washable surfaces in the kitchen and / or bathroom.
This product is also indicated for other multiple uses such as the disinfection and cleansing of all surfaces, cars and means of transport, lights, rims, etc., to remove difficult spots from clothing without risk of damaging the colors or damaging the tissues.
It has a reduced environmental impact since its formula does not contain phosphates.
Composition
Instructions for use
Packaging
Product ID
How to storage and validity
Technical DataSheet
100,0 g of product contain:
Bifenil-2-olo 0,1 g; coformulants; depurated water q.s. to 100,0 g.
To disinfect: spray the product to wet the whole surface and leave to act for 5 minutes and then rinse.
To degrease and for daily cleaning: spray the product on the surface to be cleaned so as to completely wet it to be treated and leave to act for a few minutes and then rinse.
Not to be used on untreated natural wood, Aluminium and zinc.
Before use, try the product on a small hidden area of the surface to be treated.
Carefully read the instructions and directions for use on the label.
750 ml Bottle – Box containing 12 Bottles
3 years.
The indicated period of validity refers to the product properly stored in its container and correctly used.
Store in a cool, dry place, away from heat sources.