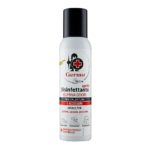 Germotech Disinfettante Spray Elimina Odori per Calzature e Accessori
Spray disinfectant for shoes and accessories.
Germotech disinfettante spray elimina odori per calzature ed accessori is registered by the Italian Ministry of Health.
Germo Tech DISINFETTANTE SPRAY ELIMINA ODORI for Footwear and Accessories it has been formulated to neutralize bad smells by quickly eliminating fungi and bacteria, in effect acts directly on the micro-organisms responsible for the formation of bad smells and is particularly suitable for deodorizing and refreshing washable and non-washable clothing such as shoes, helmets, jackets and windbreaker, clothes and sports bags.
It does not stain, does not leave residual and does not damage tissues and materials.
Active on the Coronavirus family. Tests performed by an accredited EU laboratory.
Dermatologically tested.
Composition
Instructions for use
Packaging
Product ID
How to storage and validity
Technical DataSheet
100.00 g contain:
Benzalkonium chloride 0.10 g; Biphenyl-2-ol 0.02 g; Propan-2-ol; Parfum; Propellants q.s. to 100.00 g. Contains: Alpha-Isomethyl Ionone, Benzyl Benzoate, Benzyl Salicylate, Cinnamyl Alcohol, Citral, Citro-nellol, Coumarin, Geraniol, Limonene, Linalool.
Spray uniformly on the interested area;
Leave to act for 15 minutes, no need to rinse.
Repeat when necessary to prevent the formation of germs, bacteria and fungi.
Carefully read the instructions and directions for use on the label.
150 ml one Can – Box containing 12 Cans
3 years.
The indicated period of validity refers to the product properly stored in its container and correctly used.
Store in a cool, dry place, away from heat sources.