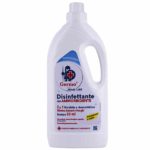 Disinfettante Ammorbidente
Disinfectant softener for laundry.
Disinfettante Ammorbidente is registered by the Italian Ministry of Health.
DISINFETTANTE AMMORBIDENTE disinfects and softens the laundry at the same time whether it must be done by hand or in the washing machine leaving it soft, fresh and perfumed.
Active even at low temperatures, thanks to the highly residual and stable active ingredients, it also guarantees a complete disinfection and respects the colors without changing or ruining them.
It has a reduced environmental impact: its formulation with a softener base of natural origin does not contain phosphates and it is biodegradable and you can use it with minimun dosages reducing consumption and unnecessary waste.
Composition
Instructions for use
Packaging
Product ID
How to storage and validity
Technical DataSheet
100.0 g of product contain: Biphenyl-2-ol 0.5 g; Alkyl-benzyl-dimethyl-ammonium chloride 1.5 g; parfum; coformulants; depurated water q.s. to 100.0 g. Contains: Benzyl Salicylate, Hexyl Cinnamal, Linalool, Alpha Isomethyl Ionone, Butylphenyl Methylpropional, Citronellol
It is always used in the last rinse.
In the washing machine: pour 50 ml into the suitable tank at the start of the rinse.
By hand: pour 50 ml into 10 liters of cold water and carry out the last rinse.
Carefully read the instructions and directions for use on the label.
1000 ml Bottle – Box containing 12 Bottles
5 years.
The indicated period of validity refers to the product properly stored in its container and correctly used.
Store in a cool, dry place, away from heat sources.