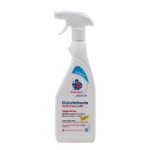 Disinfettante Anticalcare
Disinfectant, detergent, limescale against stubborn dirt.
Disinfettante Anticalcare is registered by the Italian Ministry of Health.
DISINFETTANTE ANTICALCARE is a disinfectant active against bacteria (TBC included) and fungi, but it is also a powerful detergent with descaling action, mostly indicated to remove the stubborn dirt, limestone, rust, etc., specially used for bathroom or kitchen.
It is an excellent detergent for daily cleaning thanks to its non-aggressive formulation specifically designed to give immediate shine even to the most delicate surfaces. The product, used regularly, prevents the formation of limestone, keeps steel and taps shiny without rub.
Composition
Instructions for use
Packaging
Product ID
How to storage and validity
Technical DataSheet
100,0 g of product contain:
Benzalkonium chloride 0,50 g, Bifenil-2-ol 0,02 g; coformulants; depurated water q.s. in 100,0 g.
It is indicated for a quick cleansing of all hard surfaces, ceramic toilets, tiles, glass and plastic shower box, steel sinks, equipment and objects.
Spray with the appropriate vaporizer, taking care to wet the surface completely.
Rinse thoroughly.
For daily cleaning: it does not require a shutter speed.
To disinfect: leave act for at least 15 minutes.
Before using the product on a large surface, test on a small area.
Carefully read the instructions and directions for use on the label.
1000 ml Bottle with Trigger – Box containing 12 Bottles
3 years.
The indicated period of validity refers to the product properly stored in its container and correctly used.
Store in a cool, dry place, away from heat sources.