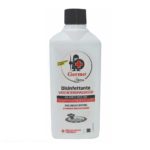 Disinfettante Vasche ad Idromassaggio
Broad spectrum disinfectant for disinfection of Whirlpool Baths.
Disinfettante Vasche Idromassaggio is registered by the Italian Ministry of Health.
DISINFETTANTE VASCHE IDROMASSAGGIO combines the disinfectant power with a deodorant and cleansing action.
It is a universal product and it can be used for the disinfection and cleansing of the internal circuits of whirl-pool systems acting against bacteria, fungi, yeasts and molds.
It allows frequent uses as it does not corrode rubber – plastic – resins – metals or special adhesives.
Composition
Instructions for use
Packaging
Product ID
How to storage and validity
Technical DataSheet
100.0 g of product contain: Benzalkonium Chloride 3.0 g; Isopropyl alcohol; non-ionic detergent surfactants; parfum; coformulants; depurated water q.s.to 100.0 g.
Contains: Benzyl Alcohol, Citral, Limonene. Reg. 648/2004: 5-15% Non-ionic surfactants, <5% Cationic surfactants, parfum (Benzyl Alcohol, Citral, Limonene), preservatives (Methylchloroisothiazolinone, Methylisothiazolinone).
To degrease, cleanse and decontaminate use 50 ml of product.
To disinfect dilute to 0.5%.
Activate the system for 1 minute and leave the product to act for at least 15 minutes before draining the water.
Carefully read the instructions and directions for use on the label.
500 ml Bottle – Box containing 6 Bottles
5 years.
The indicated period of validity refers to the product properly stored in its container and correctly used.
Store in a cool, dry place, away from heat sources.