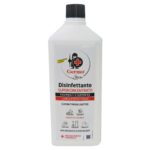 Disinfettante Superconcentrato Pavimenti e Superfici
High concentrated disinfectant for home surfaces and environments.
Disinfettante Super concentrato Pavimenti e Superfici is registered by the Italian Ministry of Health.
DISINFETTANTE SUPERCONCENTRATO PAVIMENTI E SUPERFICI is a high concentrated product suitable for all surfaces in home environments.
Thanks to its particular formulation, characterized by the synergistic action of two active ingredients, it quickly eliminates fungi, viruses, bacteria and mycobacteria (TB) and prevents their formation.
It is rich of cleaning agents and does not guarantee only a persistent disinfection, but also an effective cleansing action.
Comfortable and quick to use, it is easily diluted in water with a very small dose and gives a pleasant and prolonged scent of clean.
The product use dose is very economical, takes up little space and reduces waste.
The packaging is all in plastic and is completely recyclable.
Composition
Instructions for use
Packaging
Product ID
How to storage and validity
Technical DataSheet
100.0 g of product contain: Benzalkonium Chloride 10.0 g; O-phenylphenol 1.0 g; parfum; coformulants; depurated water q.s. to 100.0 g. Contains: Butylphenyl Methylpropional, Coumarin, Eugenol, Geraniol, Hexyl Cinnamal, Linalool. Reg. 648/2004: 5-15% Cationic surfactants, <5% Nonionic surfactants, disinfectants, parfum (Butylphenyl Methylpropional, Coumarin, Eugenol, Geraniol, Hexyl Cinnamal, Linalool), preservatives (Methylchloroisothiazolinone, Methylisothiazolinone).
Dilute 20 ml of product in a liter of water and apply with sponges, clothes or other means on floors, objects and surfaces. It does not require rinsing, leave act for 15 minutes.
For a more aggressive action, also to eliminate viruses, fungi and mycobacteria (including TB): dilute 50 ml of product in a liter of water and keep in contact for 5 minutes. Rinse only if necessary.
Carefully read the instructions and directions for use on the label.
1000 ml Bottle – Box containing 12 Bottles
5 years.
The indicated period of validity refers to the product properly stored in its container and correctly used.
Store in a cool, dry place, away from heat sources.