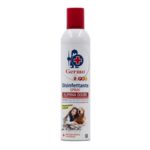 Disinfettante Spray
Elimina odori
Quickly disinfectant, deodorant for objects, surfaces and tissues.
Disinfettante Spray is registered by the Italian Ministry of Health.
DISINFETTANTE SPRAY is an ideal product to quickly disinfect and deodorize objects, surfaces and tissues by eliminating bacteria, fungi and allergens thanks to its exclusive Allergen Free fragrance.
it is ideal for environments, objects and hard surfaces (cages, carriers, bedding, tables etc.), tissues and soft surfaces (kennels, sofas, cushions, armchairs, chairs, mattresses, carpets etc.).
it is also recommended for sanitizing the interior of the car at the beginning and end of each journey.
Active on the Coronavirus family. Tested by an accredited EU laboratory.
Composition
Instructions for use
Packaging
Product ID
How to storage and validity
Technical DataSheet
100.0 g of product contain:
Benzalkonium chloride 0.10 g; Biphenyl-2 ol 0.02 g; Propan-2-ol; Parfum; Propellants q.s. to 100.0 g.
For a deodorant action: simply dispense the product for a few seconds.
For a disinfectant action, evenly dispense the product for 3-4 seconds at a distance of about 20 cm from the area to be treated. Leave act on for at least 15 minutes.
If necessary, repeat the action to prevent the formation of germs, fungi and bacteria.
Carefully read the instructions and directions for use on the label.
400 ml Can – Box containing 6 Cans
3 years.
The indicated period of validity refers to the product properly stored in its container and correctly used.
Store in a cool, dry place, away from heat sources.