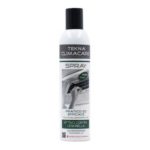 Tekna Climacare Spray Disinfettante
Spray disinfectant for air conditioning systems, split and heat pumps.
Tekna Climacare spray disinfettante is registered by the Italian Ministry of Health.
CLIMACARE SPRAY DISINFETTANTE is a spray disinfectant active on bacteria (included Legionella) and fungi specially formulated for the disinfection of air conditioning systems, splits and heat pumps.
It acts directly on the microorganisms responsible for numerous respiratory diseases. Used regularly it prevents microbial contamination first inside the air conditioning systems and then in the rooms.
It does not damage the materials – plastic – resins – metals – special adhesives.
It does not stain.
Active on Coronaviruses. Tests performed by an accredited EU laboratory.
Composition
Instructions for use
Packaging
Product ID
How to storage and validity
Technical DataSheet
100,00 g of product contain:
Benzalkonium chloride 0,10 g; O-phenylphenol 0,02 g; Isopropyl alcohol; parfum, propellants q.s. to 100,00 g
For a better result clean previously the surfaces with a suitable detergent.
Spray evenly the product for 3-4 seconds at a distance of 20 cm from the surfaces to be disinfected.
Let to act for 15 minutes.
Repeat the treatment when is necessary to prevents the formation of bacteria and fungi.
Carefully read the instructions and directions for use on the label.
400 ml one Can – Box containing 6 Cans
3 years.
The indicated period of validity refers to the product properly stored in its container and correctly used.
Store in a cool, dry place, away from heat sources.