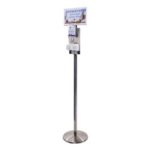 Upright with methacrylate support
It is a functional, stable, robust and resistant product made with steel act to use the DOSASOAP dispenser wherever you want, without drilling the walls.
Equipped with a support for information board, this product is recommended for hospital corridors, medical or dental practices, waiting rooms, and in all those places where is necessary a rapid disinfection of hands.
Instructions for use
Sizes
Packaging
Product ID
Technical DataSheet
Place the product at the entrance of the interested environments.
Put your hands close to the sensor.
Diameter of the round base = 300 mm
Height = 1 mt