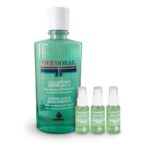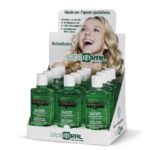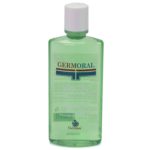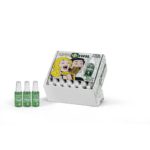 Germoral Collutorio
Antibacterial mouthwash for a rapid oral hygiene.
GERMORAL COLLUTORIO is a mouthwash suitable for a correct and rapid oral hygiene, especially after meals.
Thanks to its components with antibacterial properties, prevents halitosis and contrasts the main causes of plaque formation, caries and gum diseases, giving a pleasant sensation of freshness in the mouth.
It does not irritate the mucous membranes.
Suitable for people who carries removable prosthesis and orthodontic appliances and in case of oral surgeries.
COMPOSITION
INSTRUCTIONS FOR USE
PACKAGING
Product ID
HOW TO STORAGE AND VALIDITY
Technical DataSheet
INGREDIENTS: Aqua (Water), Sorbitol, Alcohol, Glycerin, Polysorbate 20, Sodium Benzoate, Disodium Phosphate, Mentha Piperita Herb Oil, Dichlorobenzyl Alcohol, Sodium Phosphate, Ammonium Glycyrrhizate, C.I.19140, C.I.42051.
LIQUID
Rinse for about 20 seconds with one measure of product (bottle cup), 1-2 times a day, preferably after meals.
SPRAY
Spray directly into the mouth.
Carefully read the instructions and directions for use on the label.
300 ml Bottle – Box containing 12 Bottles
35 ml Spray – Box containing 36 Spray
R690 (300 ml Bottle)
A121 (35 ml Spray)
The product should be used within 24 months after opening (see the PaO symbol on the label).
Store in a cool, dry place, away from heat sources.