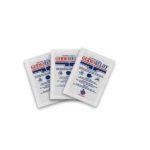 Germo Relief
Disposable wipe with calming action.
GERMO RELIEF is a wipe imbibed in a water solution with ammonia at 4% that has an immediate calming action and it is used whenever the skin is sensitized by insect bites, jellyfish and other irritant agents that can irritate it.
For this reason is an excellent product for calming the itch and ensuring, after the application, an immediate relief.
COMPOSITION
INSTRUCTIONS FOR USE
PACKAGING
Product ID
HOW TO STORAGE AND VALIDITY
Technical DataSheet
Aqua (Water); Ammonium Hydroxide.
Tear out the edge of the sachet remove the wipe and use it directly on the area to be treated.
Single sachet – Box containing 400 Sachets
After opening, it is kept for 24 months (see the PaO symbol on the label).